Influencer marketing has been growing by leaps and bounds over the past few years. Not only is it less cumbersome to implement than traditional marketing, but it also offers incredible returns.
A study by Bloglovin' found that 67% of marketers have found influencer marketing to be effective in reaching relevant audiences. Such relevance is predominantly the reason that it can drive amazing results.
However, social media and the digital landscape keeps evolving constantly. And since influencer marketing is completely dependent on these, it is important to stay informed. What worked successfully last year may not give you the best results this year due to these changes.
In this post, we discuss 10 trends that will dominate influencer marketing in 2018. These will help you create an effective strategy that delivers killer results.
---
1. Standalone Budgets for Influencer Marketing
An increasing number of brands and marketers now realize the benefits of influencer marketing. However, in 2017, 41% of marketers spent 5% or less of their marketing budgets on influencer marketing. 8% of marketers spent 30%-40%, and another 8% spent 20%-30% of their budgets on influencer marketing.
We strongly believe that these statistics will see a significant change this year. A survey we conducted in 2017 revealed that 67% of marketers plan on increasing their influencer marketing budgets.

Source - The Rise Of Influencer Marketing
Traditional advertising on TV continues to lose popularity with the focus shifting to the web. Also, the use of ad blockers continues to increase every day.
These, combined with the incredible returns that influencer marketing is capable of generating, are making brands rethink their strategy. Instead of just testing the waters, more brands are likely to dedicate standalone influencer marketing budgets in 2018.
TIP: When you're working on your marketing budget for the year, make sure to set aside a certain percentage towards influencer marketing. This will ensure that influencer marketing is embedded in your marketing strategy. And you don't resort to influencers only when you have any left-over budget.
---
2. Greater Reliance on Instagram Stories
Head of marketing at Mediakix, Jeremy Shih said, "The fastest growing influencer marketing platforms are Instagram, Instagram Stories, Facebook, and YouTube."
An indeed, when it comes to influencer marketing, Instagram is undeniably the most popular platform. According to Statista, the market value of Instagram influencers was $1.07 billion in 2017. And this is expected to hit $2.38 billion by 2019.
So it shouldn't come as a surprise that Instagram will continue to reign in 2018 as well. Besides photos and videos, Instagram Stories are expected to gain greater popularity. Since its launch, over 200 million people are now using Instagram Stories, and this number will continue to grow.
How does this impact influencer marketing? 2018 will see more influencers and brands leveraging Instagram Stories in their content strategy. Its features like polls allow for direct audience engagement.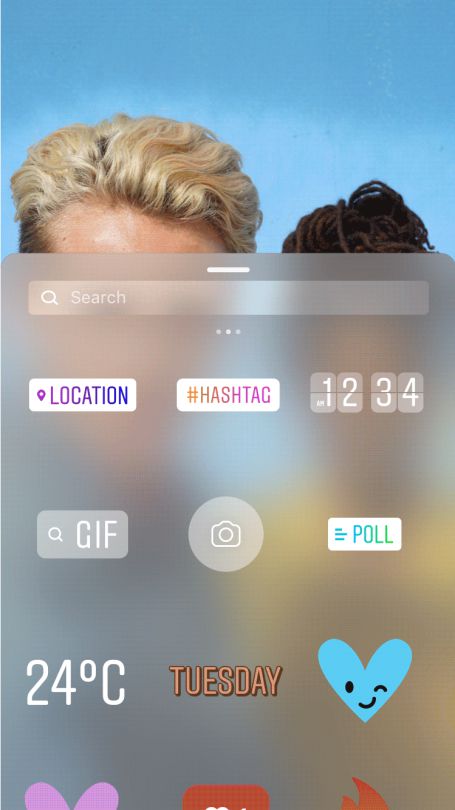 Image via Instagram
Also, with geo-location and hashtags, audiences can discover them easily. And with the latest GIF stickers, influencers can make their content more engaging and attractive than ever.
TIP: When you collaborate with influencers, make sure to ask them to leverage Instagram Stories in their content. You can even ask them to do a Stories takeover of your account for a period of time. During that time, they'll share their content on your Stories and you can benefit from a wider audience.
---
3. Increased Focus on YouTube
YouTube has always been a great platform for influencers to engage with their audiences and provide value. For millennials, YouTubers are much more influential than even celebrities. According to a study by Google, 70% of them can relate better with YouTubers than celebs. And 6 in 10 users follow their recommendations for purchases instead of celebrities.
We believe that 2018 will see a greater focus on YouTube influencer marketing. FameBit founder, Agnes Kozera said, "As YouTube creator collaborations continue to prove more effective at driving results, brands will look to do more with organic branded video beyond distributing content to creator owned channels."
TIP: When you work with influencers, ask them to focus more on video content for YouTube. This can include product reviews, tutorials, or Q&As. Informative and valuable videos can truly engage your audiences.
---
4. Integrated Approach to Influencer Marketing
In 2017, we saw a major focus on micro-influencers, influencers having between 2000 and 100,000 followers. Working with micro-influencers provides many benefits including greater cost-effectiveness, engagement, and relevance.
However, when you compare them with celebrity influencers like Kylie Jenner or Ariana Grande, obviously their reach is much less. So does that mean you should spend your entire marketing budget on celebs? The bigger question is, what if you cannot afford them?
Marketers now realize that an integrated approach to influencer marketing can work best for them. A strategy that involves working with influencers from all categories - micro, macro, and mega. Such a strategy ensures that your brand doesn't lose credibility, but also benefits from greater brand awareness and reach.
We believe that an integrated approach woven throughout the customer journey is a trend that'll  dominate influencer marketing in 2018. The factors that most marketers consider when selecting influencers are content quality, audience size, engagement, cost, and aesthetic.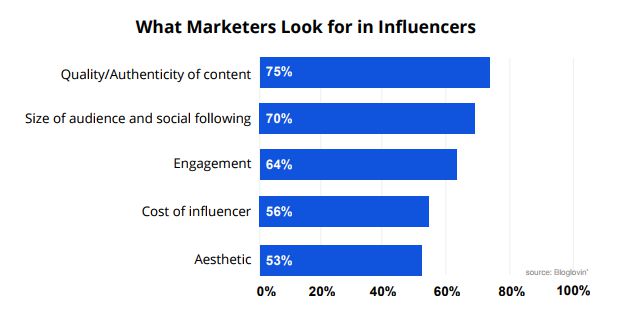 Image via Bloglovin'
You'll see that there is no one clear winner among them. This reinforces the fact that marketers are likely to move towards an integrated approach.
TIP: When you select the influencers you want to work with, choose a combination of micro, macro, and mega-influencers. Ideally, not more than 1-2 mega influencers and anywhere between 10 and 20 micro and macro-influencers. The exact numbers will entirely depend on your available budget.
---
5. Greater Focus on Tools and Platforms
Can you guess the biggest challenges that marketers today face in influencer marketing? 73% of them find it difficult to identify relevant influencers, while 65% struggle to measure the ROI. Another 37% struggle with monitoring the activity of influencers in a campaign. And 31% face challenges with finding contact information and past work history.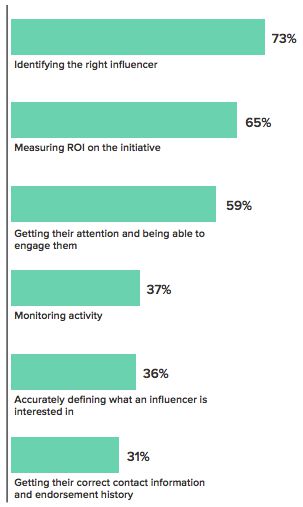 Image via Econsultancy
The good news is that there are multiple tools and platforms available today that can make your life easier. Many companies have already started using them, and find they make it extremely convenient to find and connect with relevant influencers. You can even track and measure your campaign effectiveness easily and make adjustments if necessary.
The adoption of such tools and platforms is going to be even more widespread this year. With more and more companies getting involved in influencer marketing, dependency on tools is imperative.
TIP: There are multiple influencer marketing platforms available today. Grin, BuzzSumo, HYPR, and TapInfluence are some of the most common ones. Start using one today.
---
6. An "Always-On" Strategy Instead of "As Per Need"
Traditionally, influencer marketing campaigns have been a one-off tactic instead of something that's "always-on." However, marketers realize that customer journey is something that's always-on. And brands that are able to engage them at every step of their journey are the most successful. Not only can this boost conversions but also customer loyalty and retention.
Jeff Haden, a LinkedIn Influencer and contributing editor at Inc.com, says, "I see influencer marketing as less of a one-off tactic and part of a longer-term strategy. One tweet, one share, one testimonial, event-driven tactics naturally provide short-term and therefore limited results. Shifting to a longer-term approach that builds a relationship with an influencer - and therefore with customers - is much more effective."
TIP: Instead of one-off campaigns, focus on building a holistic influencer marketing strategy this year. It should be part of your marketing calendar for the year. And you should have some sort of continual influencer endorsements going on.
---
7. Ecommerce Paving the Way Ahead for Influencers
Ecommerce giants like Amazon and Shopify are now helping influencers establish themselves as brands. They realize the potential that these influencers have, and how beneficial they can be. And given the fact that it is not easy to convert your influence into a successful venture, they've stepped in.
Some great examples of this approach are evident in the Amazon Spark and Shopify VIP programs. Amazon Spark is a feed of posts shared by like-minded people which you can use to learn or shop. This is great for influencers to review or endorse products from sponsoring brands.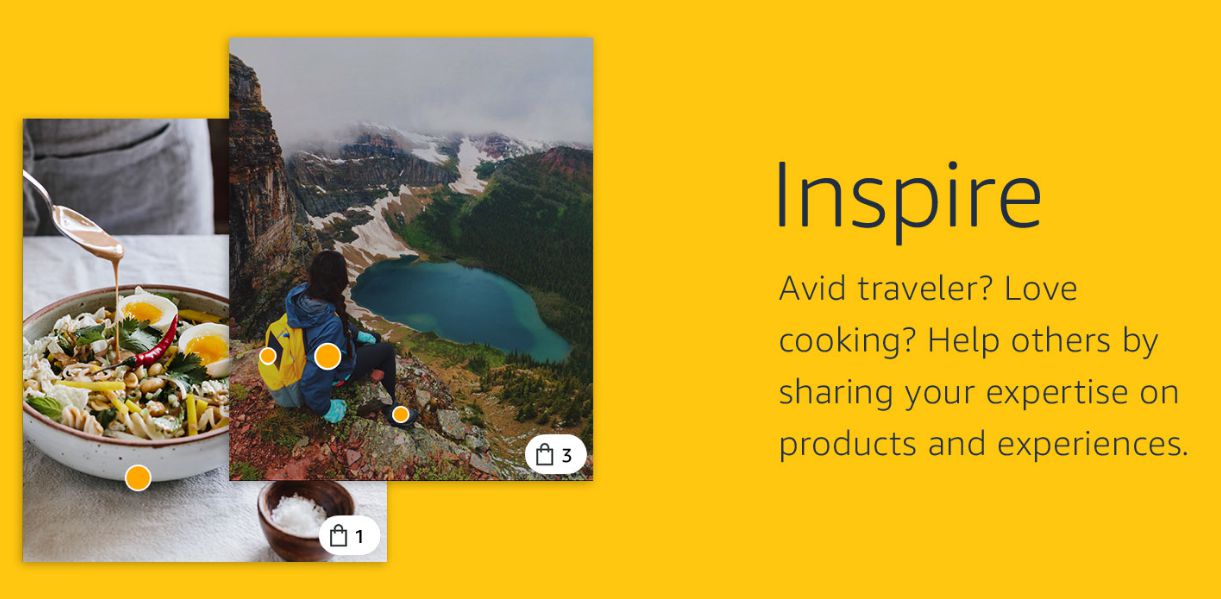 Image via Amazon
With Shopify VIP, influencers can easily launch their own multi-channel online store. This program allows them to manage their store easily and also cross-promote them on all digital channels.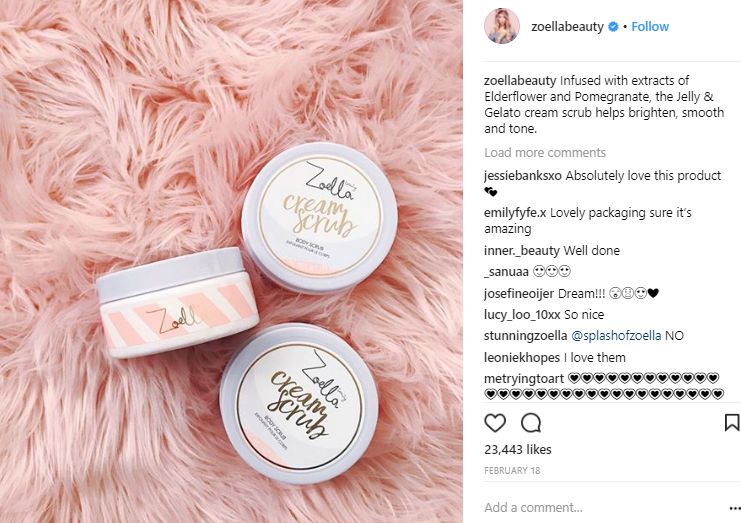 Image via Instagram
Many social media influencers today are trying to convert their influence to a profitable online store. For example, beauty influencer Zoella runs a beauty product line called Zoella Beauty.
We believe that 2018 will see more and more influencers join this bandwagon thanks to programs like Shopify VIP.
TIP: Since personal brand building is important for influencers, try and see how you can help them. Whether it be through networking events or PR, try to help them grow. This will strongly motivate them to deliver great results for your campaigns.
---
8. More and More Influencers Joining the Race
If numbers are to be believed, 2018 will see an even greater number of new influencers than last year. If you check Google Trends for the rise in searches for "how to become an influencer," this is what you'll see.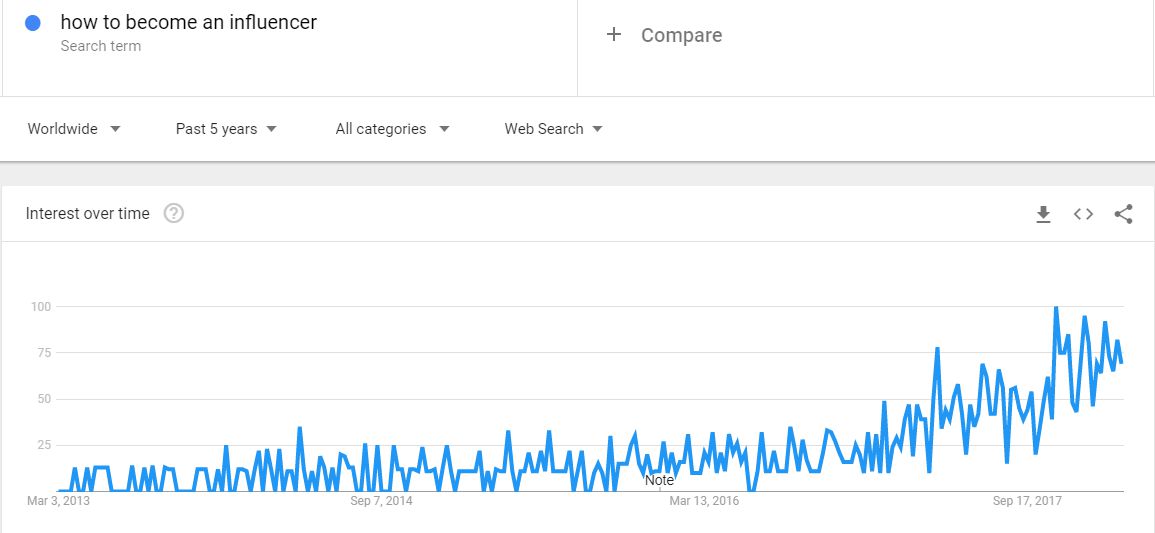 Image via Google Trends
This clearly indicates that the number of influencers shows no signs of slowing down at all. 2016 saw 9.7 million sponsored posts on Instagram. This number is expected to shoot up to 32.3 million by 2019.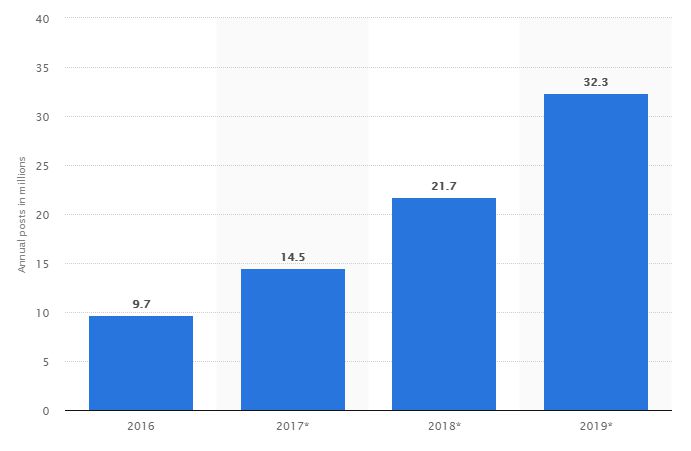 Image via Statista
YouTuber, Nikki Phillippi says, "Digital marketing has changed so much since I started working with brands 6 years ago. The biggest change I've seen is that they understand that the space is actually valuable and important to be in now! Because of that, there is so much more opportunity for influencers to make a living by connecting with incredible brands."
TIP: You might be spoiled for choices now that there's a wider pool of influencers to select from. However, make sure that you ensure their influence is genuine, and they've not bought followers. A look at their engagement rates can help you evaluate. Also, go through their work to make sure that they don't compromise on quality and produce authentic content.
---
9. Building Relationships to Create Brand Ambassadors
Marketers realize it already, and 2018 is going to be a year when they implement it on a larger scale. What are we talking about? That influencer marketing cannot be transactional. If you're truly interested in engaging audiences and winning customers, you must build long-term relationships with influencers.
This means trusting influencers as partners so that they genuinely care about your brand. If they're more invested, the promotion will be more effective. Instead of one-off campaigns, if you create brand ambassadors, audiences are more likely to engage.
Entrepreneur, author, and marketing professional Cynthia Johnson says, "It won't enough to just pay someone to post anymore; Brand ambassadors will be necessary."
TIP: In order to build brand ambassadors, you must nurture your influencer relationships. Offer them something truly valuable, be it fair compensation, creative freedom, or media exposure.
---
10. Increased Use of Video Marketing
According to a study by gen.video, it was found that videos are the most effective content that drives sales. Over 75% of the survey respondents found videos to be more credible, enjoyable, and relevant than other influencer content.
Videos are more authentic because you really cannot alter them too much. Also, they're fun, which is evident in the popularity of Instagram Stories and Facebook Live.
IP video traffic constituted 73% of all web traffic in 2016. This is expected to reach 82% by 2021 according to a study by Cisco. So, you can rest assured that video marketing will play an integral role in influencer marketing in 2018. These could be product unboxing, behind the scenes, or tutorials shared by influencers.
TIP: Make videos an integral part of your content strategy this year. Whether it's your own content or your influencer's.
---
Final Thoughts
We're still in the initial phases of the year. And the time is just right for you to finalize your influencer marketing strategy for 2018. Following these trends will definitely help you ace your influencer marketing game. So make sure that you keep them in mind when you plan your strategy for 2018.