Can you try to guess what most kids want to become when they grow up? No, it's neither a doctor nor a teacher; it's not even a lawyer or an actor. According to a survey cited by UK-based The Sun, three out of four kids want to become a YouTuber. The survey was conducted on 1,000 children aged between six and seventeen. Being a YouTuber is the most-desired job among these participants, with 34.2% of them opting for it.
This is a fine example of just how influential YouTubers have become, replacing traditional celebrities and television stars. This shift in influence is largely because YouTube stars are much more relatable.
According to Think with Google, 70% of teens on YouTube can relate to YouTube creators much better than traditional celebrities.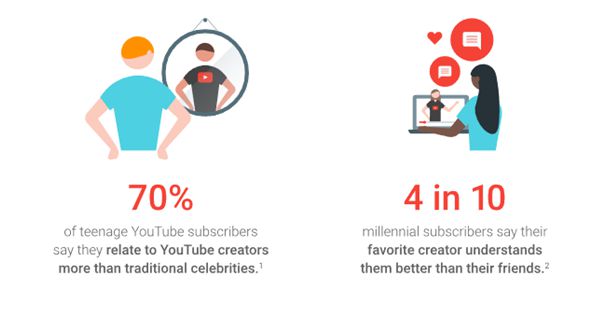 Image Source: Think with Google
At the same time, even traditional celebrities – mostly singers and musicians – are getting tons of visibility through YouTube. The widespread use of the platform and the high engagement rate contribute to this, making it one of the best channels for influencers and celebrities to reach their audiences.
With 1.5 billion monthly active users and a billion hours of videos watched every day, YouTube is among the most popular social channels. In fact, people spend an average of 40 minutes a day on the platform, which is the highest among all of the main social channels.
Influencers and celebrities have been able to make use of the platform to monetize their influence, raking in millions of dollars in ad revenue and sponsorship videos. Brands benefit from this as well since some of the top YouTube channels have millions of subscribers, granting them high levels of exposure.
In fact, the top YouTube influencer, PewDiePie, now has more than 60 million subscribers. You can use the Top YouTube Influencers tool from Influencer Marketing Hub to track the subscriber growth in real time.
---
#1: PewDiePie – 60 Million Subscribers
Felix Kjellberg, also known as PewDiePie, is a 27-year-old web-based comedian, vlogger, and video game reviewer from Sweden. He creates commentary-based videos for various video games and records his reactions as he's playing them. He started out by playing action and horror video games during his initial YouTube days.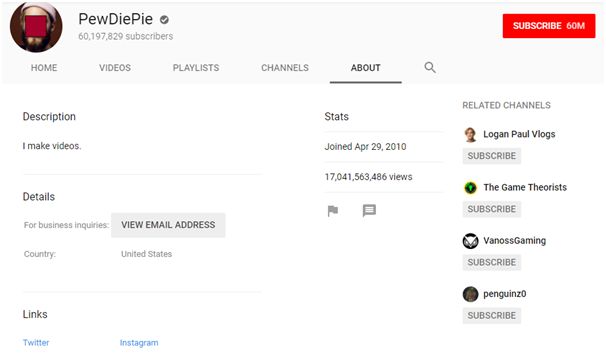 Before he became a YouTuber, he used to sell hot dogs to make a living. As of the writing this post, his videos have been viewed more than 17 billion times. PewDiePie puts a lot of effort into raising money for charity. He's managed to raise a total of $630,000 for Save the Children along with his subscribers, whom he refers to as the "Bro Army."
---
Almost everyone is familiar with the 23-year-old Canadian singer, so it's no surprise that his VEVO is among the most subscribed YouTube channels. Even for this artist, YouTube was the platform through which he drew the attention of a talent manager back in 2008.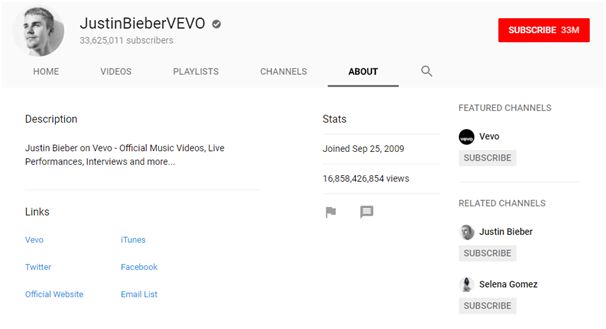 After his debut EP, My World, came out in 2009, his following increased exponentially. Justin Bieber's VEVO includes his official music videos, audio videos, live performances, and lyric videos.
---
#3: T-Series – 33.3 Million Subscribers
T-Series is an Indian music label and movie studio which was started in the 1980s. Their YouTube channel was created in 2006, and is known for its Bollywood music tracks.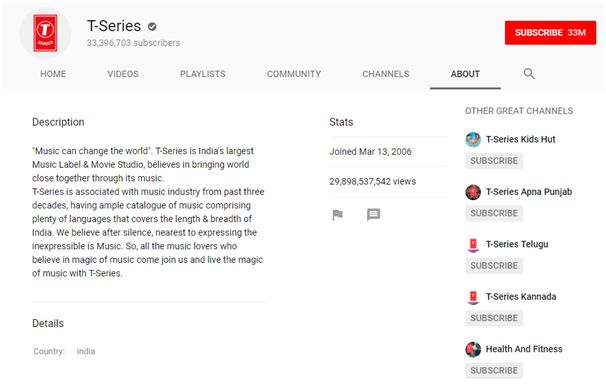 The channel is getting an average of 75,000 new subscribers every day and is one of the fastest-growing YouTube channels. Their videos have been viewed almost 30 billion times, which is even higher than the view rate of the most subscribed channel.
---
#4: HolaSoyGerman – 33 Million Subscribers
HolaSoyGerman is a YouTube channel owned by Germán Alejandro Garmendia Aranis, a Chilean YouTuber, musician, singer, writer, and comedian. As of now, it's the most subscribed among Spanish-speaking YouTube channels.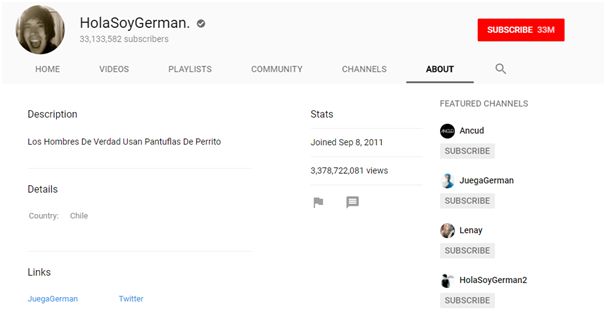 His videos have been viewed more than 3 billion times. He creates comedic videos about a wide variety of life and fictional topics. He sometimes talks about his personal experiences as well.
---
#5: TaylorSwiftVEVO – 27.3 Million Subscribers
Taylor Alison Swift is a 28-year-old American singer-songwriter, known for writing narrative songs that tell stories about her personal life.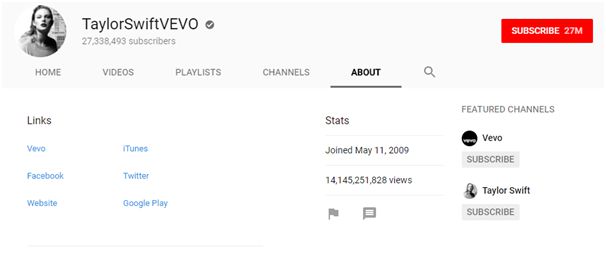 She is a leading contemporary singer, and has managed to get more than 14 billion views for her YouTube videos. Her VEVO mostly includes her official music videos and lyric videos. There are some interview videos and live performance videos as well.
---
#6: elrubiusOMG – 27.23 Million Subscribers
Ruben Doblas Gundersen, also known as elrubiusOMG or El Rubius, is a 27-year-old Spanish YouTuber known for creating videos in which he reviews games.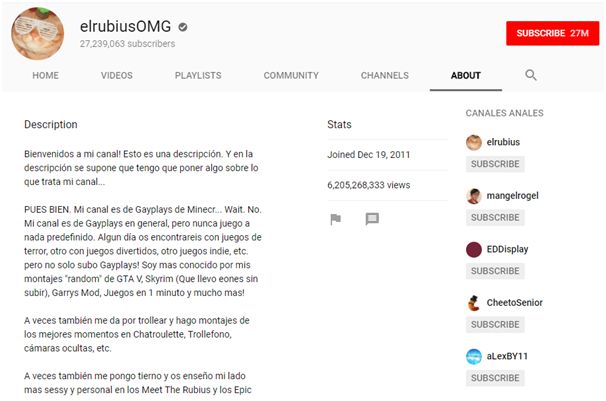 He was the first YouTuber from Spain to achieve 10 million subscriptions. For this achievement, YouTube presented him with a Diamond Play Button. His channel is also the most subscribed in Spain, and is the second most subscribed among Spanish language channels.
---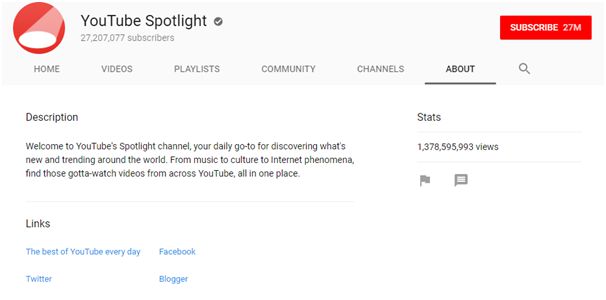 YouTube Spotlight is the official YouTube video channel, and is used for spotlighting events and trending videos on the platform. The channel has been used for showcasing events such as the YouTube Music Awards and the YouTube Comedy Week. Viewers can also watch YouTube Rewind in annual installments on this channel.
---
#8: Ed Sheeran – 27 Million Subscribers
Edward Christopher Sheeran is a singer, songwriter, and record producer. He started his YouTube channel in 2006, and earned visibility through the platform.
He has since managed to garner more than 27 million subscribers. His singles, "Thinking Out Loud," and "Shape of You" have been listed among the top 20 most viewed YouTube videos of all time.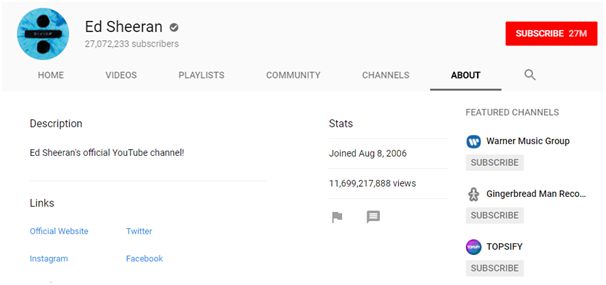 Ed Sheeran's channel attracted its 10 millionth subscriber in early 2017. Since then, it has been one of the fastest growing channels in terms of subscribers and video views.
---
Whindersson Nunes is a comedian and vlogger who began making parodies, songs, and movie reviews when he was just 15. The 22-year-old Brazilian YouTuber is also known for his standup comedy and acting.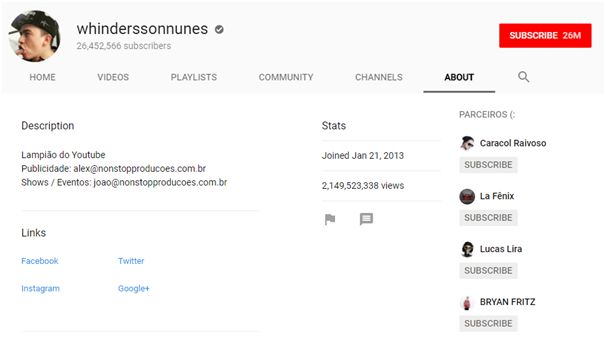 His channel was the most subscribed in Brazil during 2016. The most watched video on his channel is a parody of Adele's, "Hello." The parody is titled, "QUAL É A SENHA DO WIFI" (What is the WiFi Password?) which has been viewed more than 62 million times.
---
#10: RihannaVEVO – 26.3 Million Subscribers
Robyn Rihanna Fenty is a 29-year-old singer, songwriter, and actress from Barbados. Her VEVO showcases her live performances, music teasers, and behind-the-scenes videos in addition to her music videos.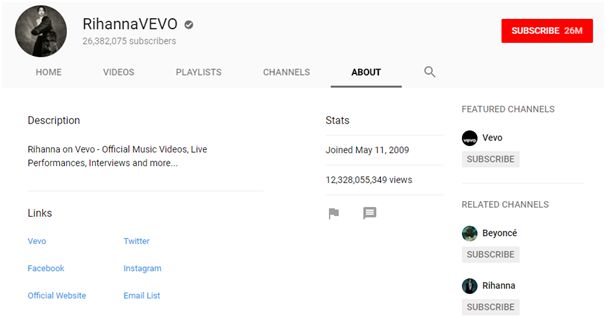 RihannaVEVO was the most subscribed among music and VEVO channels between 2011 and 2015.
---
#11: KatyPerryVEVO – 26.2 Million Subscribers
Katheryn Elizabeth "Katy" Hudson is an American singer, songwriter, and actress. She's known globally by her stage name, Katy Perry. As a child, Katy used to sing in church and then began building a career in gospel music.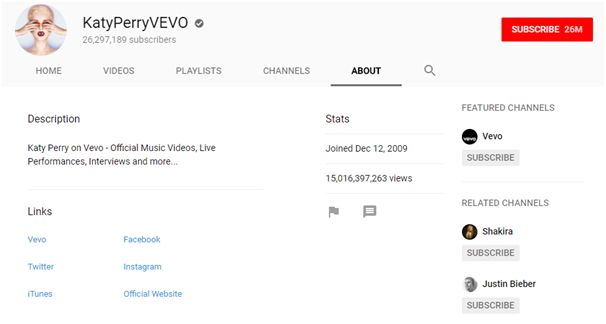 After moving on from gospel music, she released her first single, "I Kissed a Girl" in 2008, which earned her worldwide fame. Her VEVO includes interviews, audio videos, music videos, and live performances.
---
#12: Canal KondZilla – 26.1 Million Subscribers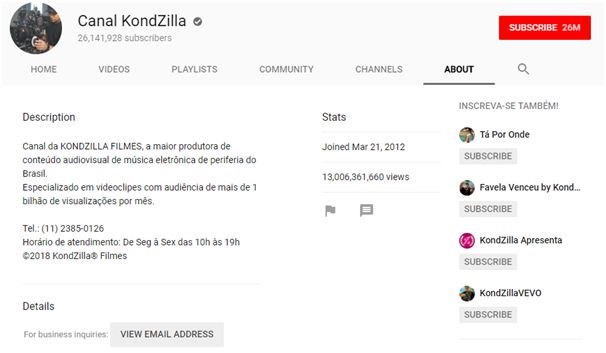 Konrad Cunha Duntas, better known as KondZilla, is a director, music video producer. His YouTube journey began in 2012 and gained popularity almost instantly.
He has since gained more than 26 million subscribers. KondZilla's YouTube channel is used to showcase the music videos he has created and developed.
---
#13: Fernanfloo – 26.1 Million Subscribers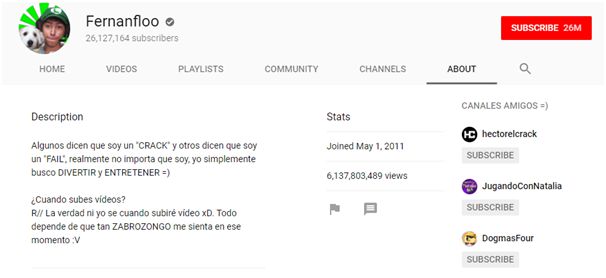 Luis Fernando Flores, better known as Fernanfloo, is a 24-year-old gaming YouTuber. His channel is currently the most subscribed in El Salvador, his native country. He sets himself apart with his unconventional behavior and he is one of the top-paid YouTubers. His channel receives the quickest view rates on YouTube.
---
#14: Dude Perfect – 26 Million Subscribers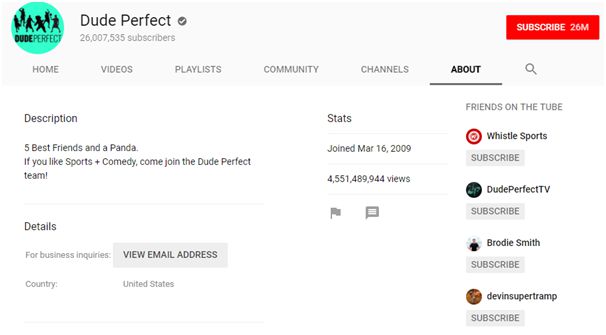 Dude Perfect is the YouTube channel of an American sports entertainment group after the same name. The group is made up of five high school friends – Coby Cotton, Cody Jones, Cory Cotton, Garrett Hilbert, and Tyler Toney. All five of them are basketball players and they use their channel to showcase, trick shot videos, battles, and more.
---
#15: EminemVEVO – 25.5 Million Subscribers
Marshall Bruce Mathers III, better known as Eminem, is a rapper, songwriter, actor, and record producer. The 45-year-old was the best-selling artist in the U.S. during the 2000s. He won the 2002 Academy Award for Best Original Song for "Lose Yourself," becoming the first rapper to receive the coveted award.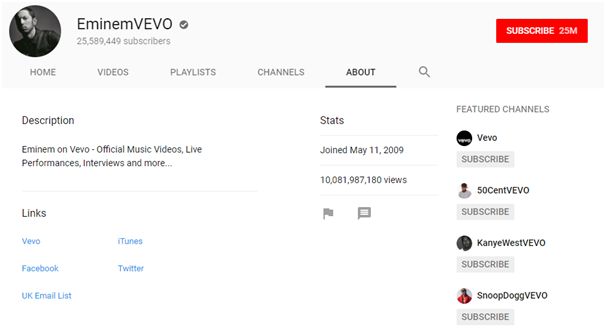 His videos have been viewed more than 10 billion times on YouTube.
---
#16: JuegaGerman – 24.2 Million Subscribers
JuegaGerman is the second YouTube channel owned by Germán Alejandro Garmendia Aranis, with his primary channel being HolaSoyGerman. This channel is mainly known for its comedic content.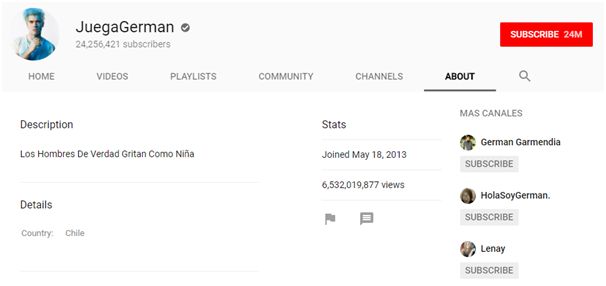 After he achieved a total of 40 million subscribers on his two channels, Germán was the first YouTuber to receive two Diamond Play Buttons.
---
One Direction, also known as 1D, is a British-Irish pop boy band. It comprises of Liam Payne, Harry Styles, Niall Horan, and Louis Tomlinson. All the members were contestants on the X-Factor, along with ex-member, Zayn Malik.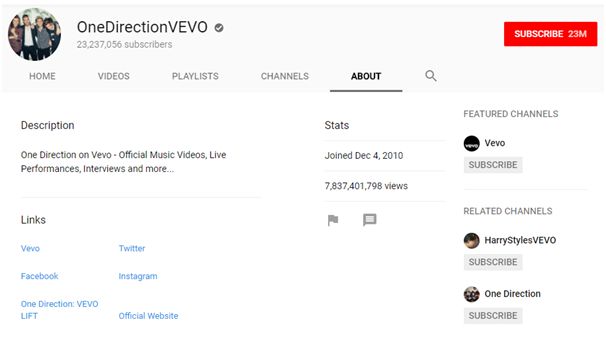 After the show, One Direction was signed by Syco Music, Simon Cowell's record label. Their VEVO includes official music videos, interviews, behind-the-scenes videos, and more.
---
#18: Smosh – 22.8 Million Subscribers
Smosh is a YouTube channel started by comedians Anthony Padilla and Ian Hecox. The duo uses slapstick humor to create parody videos of video games and pop culture. This has helped the channel in attracting millions of subscribers.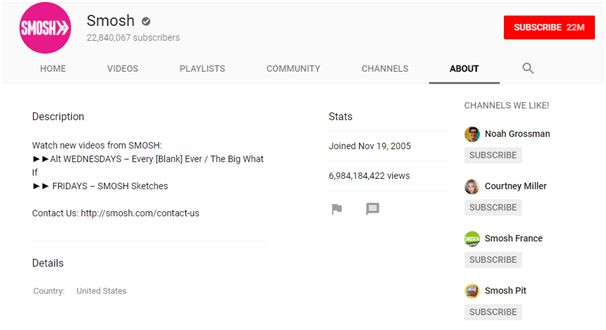 Their videos have since been viewed almost 7 billion times. Although the Smosh team has grown, Anthony Padilla left in June 2017 so he could pursue a solo YouTube channel.
---
#19: TheEllenShow – 22.7 Million Subscribers
The official channel of The Ellen Show, hosted by American actress and comedian Ellen DeGeneres, is owned by Ellen and Time Warner. It's the most subscribed and viewed channel associated with television and talk show content on YouTube.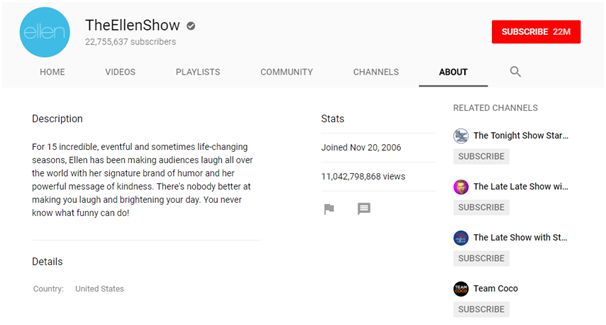 Viewers can find small clips from the show on this channel. Along with this, there are some videos created specifically for YouTube in which viewers can get useful tips and advice from experts that have been guests on the show.
---
#20: VanossGaming – 22.2 Million Subscribers
VanossGaming is a YouTube channel owned by Evan Fong, a 24-year-old Canadian YouTuber. His videos feature him playing video games and he adds a comedic twist to them.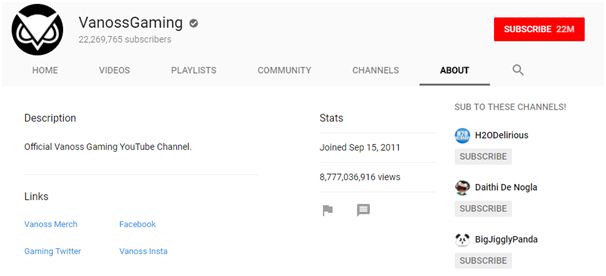 The YouTuber stands apart from other gaming influencers mainly because of his editing skills. He often creates mosaics constricting long hours of gameplay into a video that showcases only the funny moments.
---
Conclusion
YouTube is an excellent platform for musicians, comedians, gamers, and entertainers to gain a massive following and then monetize their influence. YouTubers like Daniel Middleton (DanTM) have even managed to earn as much as $16.5 million through the platform, topping the list of highest paid YouTubers of 2017.
It's important to remember, however, that building influence through YouTube isn't easy. It takes a lot of hard work and dedication, as well as thorough planning to ensure that your following increases exponentially.